Al Capone
Al Capone was born in Brooklyn, New York, on January 17, 1899, to Neapolitan immigrants Gabriel and Teresa Caponi. Originally named Alphonse Caponi, his name was Americanized to "Al Capone."
In 1904, at the age of five, young Alphonse started his school career at Public School 7 in Brooklyn. School was tough for Capone. The teachers were not tolerant of immigrant children and often used physical force as a means of discipline. Capone always had a problem with authority, and by the time he entered sixth grade, his grades began to drop drastically. At 14, Capone started a fist fight with a teacher, was expelled, and never returned to school again.
Shortly after he was expelled, his father moved the family to 21 Garfield Place, in the neighborhood that would influence the direction of Capone's life and ultimately, his future. Capone joined two local street gangs, the Brooklyn Rippers and the Forty Thieves Juniors. Among the members were Johnny Torrio and Lucky Luciano.
As a young man, Capone held many odd jobs, from a candy store clerk to a bowling alley pinboy. Capone entered organized crime when he went to work for gangster Frankie Yale, at his club the Harvard Inn. It was here that Capone received his nickname, ¬ďScarface,¬" after being attacked by a man for insulting his sister. It also was here that Capone was arrested for the first time.
While attending a dance in 1918, Capone met Mary ¬ďMae¬" Coughlin. On December 4, 1918, she gave birth to their son, Albert ¬ďSonny¬" Francis. Shortly after, they were married and Capone moved his family to Chicago.
Once in Chicago, Capone went to work for Johnny Torrio, an influential lieutenant in the Colosimo Mob. Soon after, the leader, Big Jim Colosimo, was murdered and Johnny Torrio took over with Capone at his side. By 1922 Capone had become a full partner with Torrio in his gambling houses, saloons, and brothels.
In 1925, after being seriously wounded, Torrio retired and Capone became boss. By then, rival gang members considered Capone ruthless, and posed little threat to his plans for taking over the Chicago ¬ďracketeering rights.¬" Any rival gang posing a threat to his plans was either destroyed, or diminished greatly in size, leaving full reign to Capone.
Between 1925 and 1930, Capone controlled the majority of Chicago's vice industry, including speakeasies, bookie joints, brothels, horse and race tracks, gambling houses and distilleries. His reported income was estimated to be $100 million a year. Along with all his illegal holdings, Capone also held a large interest in Chicago's largest cleaning and dyeing plant chain.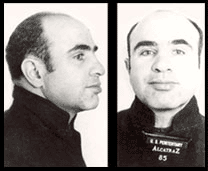 Although Capone was responsible for several murders, he always had an alibi and was usually out of town when the killings occurred. The most notorious killing was committed on February 14, 1929, which became known as ¬ďThe St. Valentine's Day Massacre.¬" Capone ordered four of his men, dressed in police uniforms, to enter a garage on North Clark street. This was the headquarters of George ¬ďBugs¬" Moran's bootleg operations and North Side Gang. When the Moran gang dropped their guns and put their hands against the wall, Capone's men gunned them down. Six Moran gang members and an innocent friend were shot. Moran, who was the intended target, was across the street at the time.
Although Capone both ordered and committed murders himself, he also had another side. Shortly after the stock market crash of 1929, he opened soup kitchens and arranged for local merchants to give away food and clothing to needy people, at his own expense.
Due to gangland's traditional refusal to press charges, Capone was neither charged nor tried for many of his crimes. In 1926 he was arrested for murdering three people, spent the night in jail and then was released due to lack of evidence. Capone's first jail sentence was in May 1929, but he was charged only for carrying a gun. By 1930, Capone topped Chicago's list of the 28 worst criminals and designated as ¬ďPublic Enemy Number One.¬"
In 1931, after years of criminal activity, Capone was indicted on twenty-three counts of income tax evasion. Judge James H. Wilkerson found him guilty on five of the twenty-three counts and sentenced him to 10 years in federal prison and fines in the amount of $50,000. He also was sentenced to one year in county jail for an earlier contempt-of-court charge.
In May 1932, Capone was sent to Atlanta State Prison, where he quickly established himself as a kingpin within the prison and began taking control. In order to stop his influence, he was transferred to Alcatraz to finish out his sentence. Alcatraz was cut off from the rest of the world, and with no other gang members residing there, Capone soon found there was nothing over which to gain control. Capone tried to earn time off for good behavior by becoming the model prisoner.
During his stay at Alcatraz, Capone began to show signs of syphilitic dementia and spent the balance of his felony sentence in the hospital. On January 6, 1939, he was transferred to Terminal Island to carry out his misdemeanor sentence. On November 16, 1939, Capone was released from prison.
After a short stay in the hospital, Capone returned to his home in Palm Island, Florida, to spend the rest of his life in peace and quiet. Due to his dementia, his mind was rapidly deteriorating and he was no longer strong enough to run the outfit. On January 21, 1947, Capone suffered an apoplectic stroke and was hospitalized. On January 24, pneumonia set in and Capone died the next day.
Capone was buried in Mount Olivet Cemetery between the graves of his father and brother until March 1950, when the remains of all three were moved to Mount Carmel Cemetery on the far West Side of Chicago.
---- Selected Quotes ----
Quotes by Al Capone.
Regarding
You can get much farther with a kind word and a gun than you can with a kind word alone.
Regarding Prohibition
I make my money by supplying a public demand. If I break the law, my customers, who number hundreds of the best people in Chicago, are as guilty as I am. Everybody calls me a racketeer. I call myself a businessman.
Comment in 1925