Henry Ford
Henry Ford was born on a farm just outside of Dearborn, Michigan. He attended the local public schools as well as a private grammar school.
During Ford`s youthful years, he showed a great interest in mechanics. In 1879, he became an apprentice in a machine shop. After working there for some time, he went to school in Detroit to be trained as a machinist.
With his schooling behind him, Ford went on to become the chief engineer of the Edison Company in 1893.
Ford began to experiment with engines in 1890. After playing with some designs for a while, he completed his first gasoline engine in his backyard shop on Bagley Avenue in Detroit. With the success of his first project, he went on to build his first automobile, the Quadricycle, which was completed in 1896. It is now on exhibition in Dearborn.
The automobile is like nothing on the road today. It is a basic design consisting of a small wooden box with a single seat. It has a steering tiller, bicycle wheels, and an electric bell on the front. One part of the engine is made from an exhaust pipe from a steam engine and the flywheel is made of wood. The vehicle can still run today.
In 1898 he left the Edison Company to be supervisor of Detroit Automobile Company. Investors balked before serious production started, and the company folded in 1900.
The Henry Ford Company started in November 1901. The stockholders did not like his interest in racing and he left after three months. Henry Leland took over as chief engineer and the company was renamed Cadillac.
In 1903, Ford founded the Ford Motor Company* with $28,000 cash. With his new interest in the automotive market, Ford gained national attention and was sued by the owners of the Selden Patent. Those people had monopolized the manufacture of automobiles. Ford lost the suit in a lower court, but appealed to a higher court. There, he was victorious, making auto building an open industry in 1910.
Following his victory in court, Ford decided that every man, rich or poor, should be able to own an automobile. With that decision, the cost of the automobile dropped significantly.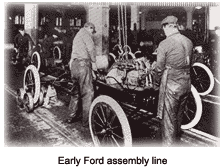 While he continually brought prices down, he did bow to stockholders` pressure and built the expensive, six-cylinder Model K. The low-priced Model N was a bigger success. He continued to release Models using the alphabet, until he came to the T.
The Model T was the first automobile to be mass produced. Ford introduced the assembly line. By saving time using the assembly line, he was able to mass-produce the Model T and get it to the American public at a much lower price. During its 19-year production (1908-1927), the company sold more than 15 million Model Ts. In 1932, Ford developed the first mono-block V-8 engine, which other companies quickly adopted.
The Model T proved to be such a great financial success for Ford and his company, that by 1918, more than half of the automobiles on United States roads were Fords. The Model A was produced from 1928 to 1931; more than four million were sold.
In 1914, Ford decided that he would share the company profits with his employees. To do this, he reduced the daily work hours from nine to eight hours. He also raised the pay rate from $2.34 to $5 a day for employees over 21, when the normal minimum wage was only $1.
With the company`s success, many new factories were built and current sites made much larger. The company stockholders wanted to split all of the profits among themselves in the form of dividends. Ford did not want the company to be run that way, so he bought out all of the stockholders in 1919. From the time he bought them out until January 1956, the Ford family had sole control over the company.
Following his resounding success with the Ford Motor Company, Ford decided to take a less active part and devote more time to other interests. He established numerous educational facilities, a museum, and an assortment of other buildings.
In 1916, he opened the Henry Ford Trade School, which specialized in training for industrial careers. He also opened the Edison Institute School, open to anyone who wanted to enhance his or her education. The Henry Ford Museum in Dearborn features many exhibits, including progress in science, invention, handicraft, transportation, manufacturing, and agriculture.
In December 1915, Ford traveled to Norway as the head of a "Peace PartyÂ" to try to end World War I. He paid for the expenses of about 150 men and women traveling on the "Peace Trip." The trip did not have the approval of the U.S. Government and the group broke up afterward. Ford had wanted to make the effort because he was opposed to the United States taking part in World War I (and later, World War II).
Like many businessmen during the Great Depression, Ford felt that unemployment was primarily the fault of poor people. Writing in Literary Digest in 1932, Ford denounced organized efforts to alleviate the effects of unemployment:
I do not believe in routine charity. I think it a shameful thing that any man should have to stoop to take it, or give it. I do not include human helpfulness under the name of charity. My quarrel with charity is that it is neither helpful nor human. The charity of our cities is the most barbarous thing in our system, with the possible exception of our prisons.
However, when the United States entered World War II, Ford announced that he could build a plant that could build a bomber every hour. The plant in Willow Run, Michigan, was the largest aircraft assembly plant in the world, making B-24 Liberator bombers until the end of the war. The plants he owned also produced Eagle boats, Liberty engines, tanks, jeeps, and other war products. They continued to produce war matériel after the war.
Henry Ford died in his bed at home on April 7, 1947. He was 83.
---
*It eventually became Cadillac via Henry Leland.
Henry Ford`s writings:

My Life and Work with Samuel Crowther (1922)

Today and Tomorrow (1926)

Moving Forward (1930)

Things I`ve Been Thinking About
(1936).
---- Selected Quotes ----
Quotes by Henry Ford.
Regarding History
I donÂ't know much about history, and I wouldnÂ't give a nickel for all the history in the world. It means nothing to me. History is more or less bunk. It's tradition. We don't want tradition. We want to live in the present and the only history that is worth a tinker's damn is the history we make today.
Interview with the Chicago Tribune, May 25, 1916
Regarding Motel T
Any customer can have a car painted any color that he wants so long as it is black.
Remark made in 1909
Regarding Thomas Edison
He felt there was a central processing core of life that went on and on. That was his conclusion. We talked of it many times together . . . Call it religion or what you like, Mr. Edison believed that the universe was alive and that it was responsive to man's deep necessity. It was an intelligent and hopeful religion if there ever was one. Mr. Edison went away expecting light, not darkness.