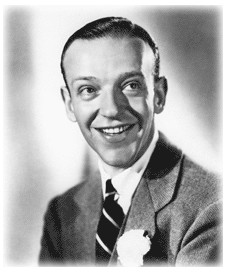 Fred Astaire was an American dancer,choreographer, singer, and actor. He appeared on stage, film, and television. Astaire was associated with Ginger Rogers; they made 10 films together. His skills as a dancer are unparalleled by any other dancer to come out of Hollywood.
Early years
Fred Astaire was born Frederick Austerlitz in Omaha, Nebraska, on May 10, 1899. His father was an Austrian immigrant, and his mother was born in the United States. He was eight months younger than his sister, Adele. Fred and Adele took the name "Astaire" for their vaudeville act when they were about five years old; it was said to have come from an uncle surnamed L`Astaire.
Fred and his sister appeared on Broadway, and on the London stage, in such shows as Lady Be Good, Funny Face, and The Band Wagon, during the 1920s. The pair split when Adele married her first husband, Lord Charles Cavendish, in 1932. Fred continued to work on his own in London and on Broadway, then he started to consider Hollywood offers.
Fred married Phyllis Potter on July 12, 1933. She had a son from a previous marriage, and the couple had two children of their own, Fred Jr., born in 1936, and Ava, born in 1942. His son appeared in the movie, Midas Run, with his father in 1969. The Astaires moved to California a few days after their marriage.
Astaire signed on with RKO Studios in 1933, but while waiting for film production on Flying Down to Rio, he was loaned to MGM to film Dancing Lady with Joan Crawford and Clark Gable.
Ginger Rogers
Astaire was paired with Ginger Rogers to film Flying Down to Rio. The pair was given a big song-and-dance number, "The Carioca." That film and the Dancing Lady were released in 1933.
Astaire choreographed all his dances with the help of Hermes Pan, a friend and fellow choreographer. Astaire was always modest about his singing; however, he is considered by some to have introduced more standards from the Great American Songbook than any other singer.
In 1935, producers of the film, Top Hat, enlisted Irving Berlin to write the score for the Fred and Ginger duo. Astaire and Berlin met, and struck up a lifelong friendship. Fred and Ginger appeared in The Gay Divorcee in 1934, Roberta (1935), Follow the Fleet (19360, Swing Time (19360, and Carefreein 1938.
Other dancers, other musicals
Astaire also appeared with numerous other famous stars for outstanding dance numbers. Some of them include Holiday Inn in 1942 and Blue Skies in 1946 with Bing Crosby. In 1940, he was partnered with Eleanor Powell in Broadway Melody of 1940, and was nearly outdanced by her. Other pairings included Rita Hayworth in You'll Never Get Rich (1941), and You Were Never Lovelier (1942); and with Lucille Bremer in two films, Yolanda and the Thief (1945), and Ziegfeld Follies in 1946, which also included a memorable team-up with Gene Kelly.
In 1947, while rehearsing for Easter Parade, Gene Kelly broke his ankle. Astaire was called upon to take his place next to Judy Garland. The studio loved the chemistry between Judy and Fred, and wanted them to star in the next film together. However, thanks to Garland's erratic behavior, she was released from the film, The Barkleys of Broadway, and replaced with Ginger Rogers. The film was the last in which the pair performed. It was released in 1949, and was a hit.
In 1950, the Academy of Motion Picture Arts and Sciences awarded Fred Astaire a special Oscar "for his unique artistry and his contributions to the technique of motion pictures." Astaire did not attend the ceremony; the award was accepted on his behalf by George Murphy.
During the 1950s, Astaire went on to make more musicals, including Three Little Words (1950), and in 1952, The Belle of New York with Vera Ellen. He also made two films with Cyd Charisse, The Band Wagon (1953) and Silk Stockings (1957). In 1955, he starred with Leslie Caron in Daddy Long Legs. During the filming of Daddy Long Legs, Astaire`s beloved wife fell ill to lung cancer and died on September 13, 1954. He returned to filming the movie, and it was given rave reviews. In 1957, Astaire starred with Audrey Hepburn in Funny Face.
Moving to drama
At this point, Astaire had made 30 musicals in 25 years and announced his retirement from musicals to concentrate on dramatic films. He received rave reviews for his appearance in On the Beach in 1959.
However, Astaire did not give up dancing, and taped a number of television programs. One of them, An Evening with Fred Astaire in 1958 earned nine Emmy Awards, including "Best Single Perfomrance by an Actor," and "Most Outstanding Single Performer of the Year."
In 1968, he starred in his final musical, Finian`s Rainbow, with co-star Petula Clark. Warner Brothers Studio hired Frances Ford Coppola to direct that film. He had never directed a musical before, and saw fit to fire Astaire's friend and choreographer, Hermes Pan. The musical was not as successful as the studio had hoped, and the critics were unkind.
During the 1970s, Astaire appeared in such films as The Towering Inferno in 1974, for which he received his only Academy Award nomination. He also appeared in two documentaries, both entitled That's Entertainment!, during the mid `70s. In the second, Astaire and Kelly performed a song-and-dance routine. He starred in a television film in 1978 with Helen Hayes, A Family Upside Down, and won an Emmy. His last film was Ghost Story, in 1981.
Later years
Astaire was a lifelong horse-racing enthusiast. He married Robyn Smith, an actress turned champion jockey, in 1980. She was about 40 years younger than he was. He remained happy with her until his death.
Fred was presented the Lifetime Achievement Award from the American Film Institute on April 10, 1981. He kept a low profile after that time, and only made an occasional public appearance.
On June 12, 1987, Astaire complained of a severe cold, and doctors suggested that he check into the Century City Hospital because of breathing problems. He was admitted under the name of "Fred Giles," to avoid publicity. The cold settled into pneumonia and on June 22, 10 days later, Fred Astaire passed away.
As requested in his will, a private funeral with no memorial service was held. The funeral was attended only by his wife Robyn, Fred Jr., Richard and Ava, and Hermes Pan. He was buried at Oakwood Memorial Park in Chatsworth, California, next to his beloved first wife Phyllis, his mother, Ann, and sister, Adele.
Fred Astaire`s mark on the history of cinema, dance, stage, television and music, remains to inspire future generations.
Off-site search results for "Fred Astaire"...
All about Fred Astaire, famous actor and dancer.
By the time Fred Astaire entered film he was already an established star. After beginning his film career he was cast with an old friend from vaudiville Ginger Rodgers. The dancing of this duo became legendary, both of them being accoFred Astaire entered film he was already an established star. After beginning his film career he was cast with an old friend from vaudiville Ginger Rodgers. The dancing of this duo became legendary, both of them being accomplished ...
http://www.history1700s.com/store/fred-astaire.shtml
Norton, Fred
... Norton Related EntriesColumbusRickenbacker, Edward V.World War I   Lieutenant Fred Norton was from Columbus, Ohio. Like fellow Columbus resident Edward V. "Eddie" Rickenbacker, Norton served as a pilot during World War I.  He was a member of ...
http://www.ohiohistorycentral.org/entry.php?rec=287
Fred Seaton
Fred Seaton A Kansas Portrait Frederick Andrew Seaton was born on December 11, 1909, in Washington, D. C., where his father worked for U. S. Senator from Kansas, Joseph L. Bristow. At the age of six, he moved with his family to Manhattan, Kansas ...
http://www.kshs.org/portraits/seaton_fred.htm