Carol Burnett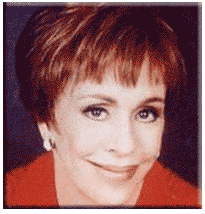 Carol Burnett is an American comedienne and actress who achieved international fame with her 11-season televised variety show.
Beginnings
She was born Carol Creighton Burnett on April 26, 1933, in San Antonio, Texas. Her parents were Jodie and Louise Burnett; both suffered from alcoholism. Carol and her sister were reared by their grandmother. She moved them to Hollywood, California, where Carol graduated from Hollywood High School, then attended the University of California - Los Angeles, from 1951 to 1954.
Carol married actor Don Saroyan in 1955. They divorced in 1962.
She appeared in a few minor theater and television productions, then gained notice in the mid-'50s with her comical song, "I Made a Fool of Myself Over John Foster Dulles." Her first taste of success occurred with her appearance on Broadway in the 1959 musical, Once Upon a Mattress. Also in 1959, she became a regular player on the television production, Garry Moore Show. She continued her appearances until the shows ended in 1962.
After the Moore show ended, Carol appeared in a televised special as a headliner in Julie and Carol at Carnegie Hall; her co-star was her friend, Julie Andrews.
Carol then married Joe Hamilton in May 1964. The couple produced three daughters. They were divorced in 1984.
Lucille Ball and Carol were great friends, and Carol appeared on The Lucy Show several times.
The Emmy collector
In 1967, Burnett's hour-long Carol Burnett Show debuted. Her good friend, Jim Nabors, appeared on the first airing. Burnett made certain that Nabors appeared on each new season's first show, as a good-luck charm. Her regular cast included Tim Conway, Harvey Korman, Lyle Waggoner, and Vicki Lawrence. The hugely successful show earned 22 Emmy Awards during its 11-year run, and continues to enjoy success in syndicated reruns.
Burnett became known for tugging on her ear, which was a sign to her grandmother. When her show ended, she appeared in a few dramatic roles, including the made-for-television movie, Friendly Fire, in 1979. She also appeared on a few movies for the silver screen, including; Annie in 1982, and Noises Off in 1992.
In 1981, Burnett won a lawsuit against The National Enquirer tabloid, which had slandered her in 1976 with an article suggesting that she was drunk and rowdy at a gathering of celebrities and international political figures. Burnett donated the damage award to charity and claimed it was to teach the tabloid a lesson about lying.
During the 1990s, Burnett became a supporting actress in the television show, Mad About You, in which she played the mother of lead character, Jamie.
The busy entertainer married her current husband, Brian Miller, in November 2001.
A tragic loss
Burnett's life met with tragedy when her daughter, Carrie Hamilton, died of lung cancer at the age of 38 in 2002. When Hamilton was a teenager, she suffered an addiction to drugs, but overcame it with her mother's help. Hamilton also was an actress, and appeared in the television movie, Hostage, with her mother.
Honors
The veteran comedienne and actress was inducted into the Television Hall of Fame in 1985; she was a recipient of the Kennedy Center Honors in 2003. Burnett also was awarded the Presidential Medal of Freedom, by President George W. Bush in 2005.
Burnett appeared on the popular television program, Desperate Housewives, in the spring of 2006. Many believe her career has many years ahead of it, and she will continue to wow audiences with her antics, along with her formidable dramatic ability.