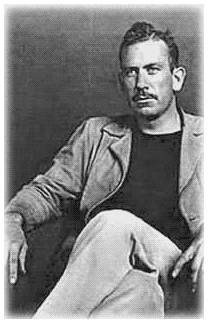 John Steinbeck has been characterized as having been influenced by the likes of Charles Darwin, the naturalist, author of The Origin of Species, and champion of the theory of evolution. Instead of Romanticism and its highly symbolic, idealistic, or even supernatural treatment of its subjects, Naturalism is the outgrowth of Realism, a prominent literary movement of the late 19th-century.
Naturalistic writers were influenced by Darwin's theory, in that they believed that one's heredity and surroundings determine one's character. Whereas Realism seeks only to describe subjects as they really are, Naturalism also attempts to scientifically ascertain the underlying forces influencing those subjects' actions.
Both genres are diametrically opposed to Romanticism — Naturalistic works often include earthy, sordid, tell-it-as-it-is subject matter. An example might be a frankness about sexuality or a pervasive pessimism throughout a work.
Steinbeck: Down and dirty with the common man? You bet. The downtrodden, the hapless, those struggling just to eke by on the meagerness of the day? Steinbeck was there to describe it to his readers, such that the acrid odor of fish entrails left in a mound for clouds of sea gulls seeking their handouts on a lazy afternoon on the wharf, oozed from his pages and into the reader's nostrils.
The early years
Steinbeck was born to John and Olive Hamilton Steinbeck, first-generation Americans, in Salinas, California, in 1902.
He enrolled in Stanford University in 1919, and attended until 1925. He dropped out of school and moved to New York City, where he developed his skills as a freelance writer. He was compelled to return to California, however, after an unsuccessful search for a publisher.
Steinbeck's first novel was the mythological Cup of Gold (1929), a historical-fiction novel, loosely based on the privateer Henry Morgan's life and death. It centered on Morgan's assault on and sacking of the fictional city of Panama, sometimes referred to as the "Cup of Gold." It received little public notice.
Steinbeck married Carol Henning in 1930. She persuaded him to attend some radical political rallies in the liberal hotbed of San Francisco. The couple visited the Soviet Union in 1937, which was fairly common at that time among American intellectuals hoping to glimpse the successes of the world's best example of communist power and ingenuity.
The young author achieved his first critical success with the novel Tortilla Flat (1935). It won the Gold Medal, sponsored by the California Commonwealth Club. It is the story of a group of young men living above the streets of Monterey during the Great Depression, who are engaged in heraldic adventures that can be compared to the exploits of the Knights of the Round Table. The novel was later made into a motion picture of the same name (1942).
Steinbeck's political experiences influenced his work, especially The Grapes of Wrath (1939), a portrayal of the downside of capitalism and his own unique version of the historical events surrounding the Dust Bowl emigrations of 300,000 to 400,000 people, from 1933 to 1941.
"Dust Bowl fiction"
In writing what were called "California novels" and "Dust Bowl fiction," Steinbeck found his niche. He used common folk set in the Depression era, to reflect his social consciousness, telling of rural workers struggles. Of Mice and Men (1937), his piece about the dreams of a pair of migrant laborers, "Lenny" and "George," working the California soil, has now reached "classic" status.
That novella was followed by what most critics believe is Steinbeck's best work, Grapes, which was based on newspaper articles he had written in San Francisco, and won the Pulitzer Prize in 1940. An uproar over his interpretation of the inhumane living conditions among migrating "Okies" along an unforgiving stretch of highway to the Promised Land, eventually caught the attention of Eleanor Roosevelt, who took up the standard, challenging Congress to right the wrongs of labor laws and migrant camp conditions.
The novel's title must be credited to his wife du jour, Carol Henning (he was married three times), who gleaned it from the lyrics of "The Battle Hymn of the Republic."
Both Mice and Grapes were made into film classics, the latter starring Henry Fonda and directed by John Ford.
Other works of note
In all, Steinbeck saw 17 novels transformed into screenplays, and he wrote filmwork for Alfred Hitchcock, including Lifeboat (1944), and A Medal for Benny (1945).
The novel, The Moon is Down (1942), portrayed resolute resistance to Nazi Germany's occupation of a north European village during World War II. It was later surmised that the hamlet was in Norway, and earned Steinbeck the Haakon VII Medal of Freedom for his morale-boosting literature. The book was made into a play, then a movie.
Steinbeck continued to ride his wave of popularity following the war. The Pearl (1947), a tale about greed and obsession based on the biblical parable of a "pearl of great price" (Genesis 4:16), drew accolades and was made into a movie. There were detractors, including right-wing critics who claimed Steinbeck was a "subversive, unpatriotic man who threatened the national interest through the socialist themes of his novels."
In 1952, Steinbeck wrote a screenplay, Viva Zapata!, based on the Mexican revolutionary Emiliano Zapata, who led a rebellion against the corrupt, oppressive dictatorship of President Porfirio Diaz, in the early 20th century.
That same year, an American film icon — James Dean — made his debut in East of Eden.
Lifetime achievement awards
The Steinbeck portfolio earned him the Nobel Prize for Literature in 1962, for his "realistic and imaginative writing, combining as it does sympathetic humor and keen social perception."
In addition to the aforementioned works, Steinbeck also produced such novels as:
• The Long Valley (1938) • The Chrysanthemums (1938) • Forgotten Village (1941) • The Wayward Bus (1947) • Sweet Thursday (1954) • The Short Reign of Pippin IV (1957) • Once There Was A War (1958) • The Winter of Our Discontent (1961) and Travels with Charlie: In Search of America (1962) • America and Americans (1966) and • The Acts of King Arthur and His Noble Knights (1976) (published posthumously).
Steinbeck also kept journals of his observation and travels, often publishing notes that did not make it into his novels, but nonetheless are engrossing and entertaining. Include among them are:
• Sea of Cortez: A Leisurely Journal of Travel and Research (1941) • A Russian Journal (1948) (Photography by Robert Capa) • Log from the Sea of Cortez (1951) • Journal of a Novel: The East of Eden Letters (1969) and Working Days: The Journals of the Grapes of Wrath 1938-1941 (1989) (posthumous)
A stormy end
Although the FBI never officially investigated him, Steinbeck did come to their attention because of his political beliefs, and he was interviewed by Army Intelligence for an officer's commission. They declined to offer based on his supposed "unsuitability due to psychological issues."
In a letter to U.S. Attorney General Francis Biddle in 1942, Steinbeck asked, "Do you suppose you could ask Edgar's boys to stop stepping on my heels? They think I am an enemy alien. It is getting tiresome."
While Steinbeck early on was considered as a political activist/Marxist by right-wing Americans, in later years, he was criticized by the very leftists he supported in the beginning. They accused him of an "insufficient ideological commitment to Socialism."
In 1948, a women's socialist group in Rome condemned Steinbeck for backsliding into "the camp of war and anti-Marxism." In 1955, an article in the Daily Worker, a newspaper published in New York City by the Communist Party USA, criticized Steinbeck's portrayal of the American Left.
In 1967, Steinbeck traveled to Vietnam to report on the war, and his sympathetic portrait of the U.S. Army prompted the New York Post to denounce him for betraying his liberal past.
To all of this, Steinbeck said simply, "Socialism is just another form of religion, and thus delusional."
This is Steinbeck country
Ah, Salinas. The word evokes a golden-days nostalgia where the agreeable scents of artichokes, cauliflower, and mushrooms, blend with the salty zephyr from nearby Monterey Bay to form a pungent elixir that conjures "Steinbeck" for the most casual of observers.
An influx of newcomers from around the country, and the world, cannot erase the memories, cannot wipe out the ambience of Steinbeck Country.
---- Selected Quotes ----
Quotes by John Steinbeck.
Regarding Teachers
I have come to believe that a great teacher is a great artist and that there are as few as there are any other great artists. It might even be the greatest of the arts since the medium is the human mind and spirit.
1955
Regarding Writing
The profession of book-writing makes horse-racing seem like a solid, stable business.
Newsweek, December 24, 1962
Regarding John F. Kennedy
Syntax, my lad. It has been restored to the highest place in the republic.
When asked for his reaction to JFK's inaugural address.