Election of 1944: Four Terms for FDR
In a 1944, the dominant issues were war and peace. Politicians were judged on their ability to complete the war effort of which the United States was the leading Allied power, and also to produce the just and lasting peace which would follow, led again by the United States as the world`s foremost economic power.
Republicans nominated Thomas Dewey, the dynamic governor of New York, at their 1944 national convention. The Democrats, as expected, picked Franklin D. Roosevelt as their nominee for President. Not as entirely expected, they dropped Henry Wallace and instead nominated Harry S. Truman for the vice-presidency.
The results in November 1940 were predictable. Roosevelt, who remained popular during the war years, was re-elected, receiving 432 electoral votes to 99 for Dewey, although the popular vote margin was closer. In Congress, the Democrat advantage in the Senate declined to 57 Democrats against 38 Republicans. In the House, the results in 1940 were 242 Democrats against 191 Republicans. With third parties draining off some support, the Democrats achieved only a bare majority of 50.6% of the popular vote in the 1944 election.
On the presidential level, the election of 1944 was a watershed in two regards. For the first time, one of the major candidates was born in the 20th century. For the last time, the Democratic Party carried every state in the "solid South."
Election of 1944
Candidates

Party

Electoral
Vote

Popular
Vote

Franklin D. Roosevelt (N.Y.)
Harry S. Truman (Missouri)

Democratic

432

25,602,505

Thomas E. Dewey (New York)
John W. Bricker (Ohio)

Republican

99

22,006,278

Norman Thomas (New York)
Darlington Hoopes (Penna.)

Socialist

0

80,158

Claude A. Watson (California)
Andrew Johnson (Kentucky)

National
Prohibition

0

74,758

Edward A. Teichert (Penna.)
Arla A. Albaugh (Ohio)

Socialist
Labor

0

45,336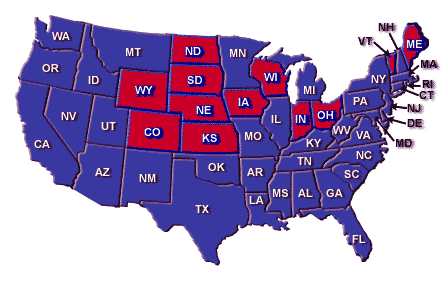 AL

11

IL

28

MN

11

NC

14

TX

23

AZ

4

IN

13

MS

9

ND

4

UT

4

AR

9

IA

10

MO

15

OH

25

VT

3

CA

25

KS

8

MT

4

OK

10

VA

11

CO

---- Selected Quotes ----

Quotes regarding Election of 1944: Four Terms for FDR.

By Herbert Hoover
Older men declare war. But it is youth that must fight and die. And it is youth who must inherit the tribulation, the sorrow and the triumphs that are the aftermath of war.
Address to the 1944 Republican National Convention
By Harry S. Truman
Tell him to go to hell; I'm for Jimmy Byrnes.
Spoken upon hearing that FDR wanted him as his 1944 running mate.