Ethan Allen
Ethan Allen was born in Litchfield, Connecticut, educated locally and saw brief service in the French and Indian War. In 1769, he and his brother Ira moved to western New Hampshire, now Vermont. At that time the northern area between the Hudson and Connecticut rivers was known as the New Hampshire Grants, the ownership of which was hotly contested between New York and New Hampshire. The Allen brothers were active land speculators and played a central role in this protracted territorial dispute.
In 1770, Ethan Allen and Seth Warner formed the Green Mountain Boys, a group of rough-and-tumble frontiersmen who opposed settlers in their area with loyalties to New York. The governor of that colony reacted to Allen's threats and intimidation by issuing a warrant for his arrest and posting a reward of ?150.
Allen was always noted for his audacity. With that lucrative reward on his head, he made good on a boast by riding to a tavern in Albany, where he ordered and drank a bowl of punch in full public view. The local sheriff was summoned, but being well aware of Allen's violent nature, allowed him to ride out of town unmolested.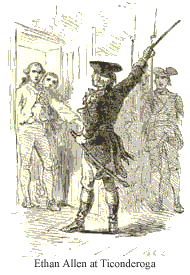 During the War of Independence, Allen emerged as a popular figure as a result of the capture of Fort Ticonderoga, an early American victory that provided a morale boost and artillery for the Patriot cause. Ethan Allen and Benedict Arnold shared the command and entered the fort together, where they subdued an enemy force of just two officers and 43 men without bloodshed.
Later, Allen served under Philip Schuyler in Canada and was captured near Montreal in September 1775 in a needlessly risky assault. He was sent in chains to England for imprisonment, but was returned in a prisoner exchange in May 1778.
Allen received a promotion and back pay from Congress, but immersed himself in the continuing territorial dispute rather than the war. Vermont had declared its independence and Allen hoped to have it admitted as the 14th state. Failing to gain Congressional support, Allen contacted Canadian officials about the possibility of including Vermont as a Canadian province. This effort resulted in treason charges being brought against Allen, but the motivations were rooted in the Vermont land dispute and no further steps were taken against him.
Vermont indeed became the 14th state, but not until 1791 — two years after Allen's death.
Ethan Allen also gained a measure of fame from his advocacy of deism. In 1784, he published Reason the Only Oracle of Man, an explanation of his religious beliefs that drew heavily from the ideas of a liked-minded friend. Thomas Paine and Elihu Palmer later became more effective exponents of that religious viewpoint.
The Ethan Allen Grave and Monument is located in the Green Mount Cemetery in historic Burlington, Vermont.
---- Selected Quotes ----
Quotes by Ethan Allen.
Regarding Capture of Fort Ticonderoga
In the name of the great Jehovah, and the Continental Congress!
Reported reply by Ethan Allen when asked by what authority he demanded the surrender of Fort Ticonderoga. Other versions are less literary.
Regarding Deism
I have generally been denominated a Deist, the reality of which I never disputed, being conscious I am no Christian, except mere infant baptism make me one; and as to being a Deist, I know not, strictly speaking, whether I am one or not, for I have never read their writings; mine will therefore determine the matter; for I have not in the least disguised my sentiments, but have written freely without any conscious knowledge of prejudice for, or against any man, sectary or party whatever; but wish that good sense, truth and virtue may be promoted and flourish in the world, to the detection of delusion, superstition, and false religion; and therefore my errors in the succeeding treatise, which may be rationally pointed out, will be readily rescinded.
Preface to "The Only Oracle of Man", 1784