Dean Acheson served as Secretary of State under President Harry S. Truman during the height of McCarthyism. Despite his role in the formulation of Truman's anti-communist policies in the late 1940s, he was mocked as an effete, Eastern establishment man, perhaps disloyal and too soft to defend America's international interests.
Dean Gooderham Acheson was born on April 11, 1883, in Middletown, Connecticut. He was educated at Yale and Harvard Law School, and then became the private secretary to Supreme Court justice Louis Brandeis. He later joined a law firm in Washington, D.C.
In 1933, President Franklin D. Roosevelt chose Acheson to become Under Secretary of the Treasury. During the World War II years, Acheson became Assistant Secretary of State. In 1945, Truman made Acheson his Under Secretary of State. In that role, Acheson was active in the development of the Truman Doctrine and the Marshall Plan. In 1949, he became Secretary of State.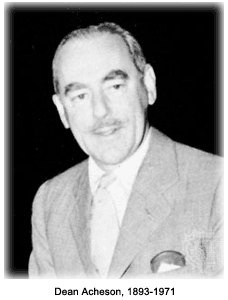 In the period following the war, America appeared to be on the defensive against communism around the world. The Soviet Union exploded its own nuclear bomb, the communists under Mao Zedong drove Chiang Kai-Shek from the mainland of China, and the Korean War ground on without a resolution. To many Republicans, this was evidence of a weak, perhaps traitorous, leadership in the State Department, and Acheson became a focus of their scorn. Specific actions that provoked his critics included his attempts to dissociate the United States with Chiang Kai Shek's Kuomintang government, his omission of Korea from the American defense periphery in a speech delivered in January 1950, and his preference for limited war aims in Korea.
While he was under secretary, Acheson also secured a $90 million loan to Poland, over the protest of U.S. Ambassador Arthur Bliss Lane, about human rights abuses committed by the communist government there. During negotiations, the Polish government gave more than $50,000 to retain Achesonís law firm. He also promoted men to high-ranking positions within the State Department, who were later found to be communist spies, including: Alger Hiss, John Stewart Service, John Carter Vincent, and Lauchlin Currie. In December 1950, conservative Republicans in the House of Representatives successfully voted to remove Acheson from office.
In the 1952 campaign, attacks came from all directions. Senator Joseph McCarthy said that Truman was probably as loyal as the next man but was being misled by Acheson. Vice-presidential candidate Richard M. Nixon described Achesonís political friend, Adlai E. Stevenson, as "holding a Ph.D. from Dean Acheson's cowardly College of Communist Containment." After the Democrats were soundly beaten in the smear campaign of the November elections, a disillusioned Acheson returned to private practice. He wrote several books in his later years and served as a presidential advisor to the Kennedy, Johnson, and Nixon administrations. His advice to Lyndon B. Johnson in 1968 was to de-escalate the war in Vietnam.
He died in Sandy Spring, Maryland, on October 12, 1971, at the age of 78.
---- Selected Quotes ----
Quotes by Dean Acheson.
Regarding Great Britain
Great Britain has lost an Empire and has not yet found a role.
Speech at West Point, 1962
Regarding Foreign Policy
No people in history have ever survived who thought they could protect their freedom by making themselves inoffensive to their enemies.
Quoted by Senator Joseph Lieberman
Regarding Battle of Dien Bien Phu
They were engaged in the most dangerous of all activities Ė deceiving themselves...France was engaged in a task beyond her strength, indeed, beyond the strength of any external power unless it was acting in support of the dominant local will and purpose.