Black History Month
To celebrate the contributions made by African Americans throughout America's history, Cater G. Woodson introduced Negro History Week in 1926. Disturbed by the omission of their role in history, Dr. Woodson began to educate the public regarding their contributions to American society and culture.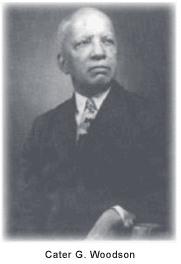 Woodson, a son of former slave parents and a Harvard graduate, chose the second week in February because of the birthdays of two influential men who contributed the greatest amount to the rights of African Americans in history â€" Abraham Lincoln and Frederick Douglass. Later changed to Black History Week, the observance was extended in 1976 to a full month and renamed Black History Month.
Other significant events during the month of February included:
Each year the nation celebrates not only the historic contributions African Americans have made, but also such recent figures as Supreme Court Justice Clarence Thomas, Nobel Laureate Maya Angelou, Secretary of State Condoleezza Rice, and General Colin Powell. Those African Americans, along with many others, continue the integration of that race into society, and break down previous racial barriers.
---
For more information, see
Important and Famous African Americans
.
- - - Books You May Like Include: ----
Thomas Jefferson: An Intimate History by Fawn M. Brodie.
Here for the first time we meet Jefferson as a man of feeling and passion. With a novelist's skill and meticulous scholarship, Fawn M. Brodie shows Je...
The Warmth of Other Suns: The Epic Story of America's Great Migration by Isabel Wilkerson.
In this epic, beautifully written masterwork, Pulitzer Prize–winning author Isabel Wilkerson chronicles one of the great untold stories of American hi...