Rutherford B. Hayes
Rutherford Hayes was born in Delaware, Ohio, the son of a farmer and whiskey distiller. He enjoyed excellent educational opportunities, capped by graduation from Kenyon College in 1842 and Harvard Law School in 1845. He was admitted to the bar in Ohio and spent five years in an unrewarding small town practice. Hayes relocated in Cincinnati in 1850 and rapidly became successful. His early political affiliations were as an antislavery Whig. He joined the Republican Party at its inception in 1854. From 1858 to 1861, Hayes served as the city solicitor for Cincinnati.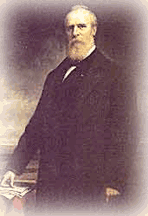 Hayes served with distinction in the Civil War and was wounded four times, once seriously. In 1864, while still in the field, he was elected to Congress. He took office at the conclusion of the war and supported the reconstruction plans of the Radical Republicans. Hayes resigned from Congress to run for governor of Ohio in 1868. His victory resulted in a reform period in the Buckeye State; prisoners, debtors and public schools benefited from his efforts.
Hayes had inherited a large farm from an uncle and planned to retire from public life. However, the Republican leaders managed to entice him into running for a third term as governor in 1875. His "sound moneyÂ" campaign resonated with the Ohio voters, enabling him to defeat his Greenback opponent.
His successful record in Ohio brought Hayes the Republican presidential nomination for the Election of 1876, which pitted him against another reformer, Samuel J. Tilden of New York. Victory for Hayes came through the auspices of an Electoral Commission in what was probably the most corrupt contest in the nationÂ's history.
HayesÂ' single term was noted for civil service reform, the resumption of specie payments, and reconciliation with the South through the removal of federal forces. In foreign affairs Hayes laid the groundwork for a Central American canal and faced the issue of Chinese immigration.
Hayes had pledged to serve a single term; he was not asked to do otherwise by the Republican Party, which resented his efforts on civil service reform and his abandonment of the South to the Democrats.
Hayes spent his remaining years working on a variety of worthy causes—-improving educational opportunities in the South, reforming prisons and developing the Ohio Agricultural and Mechanical College (later the Ohio State University).
Rutherford Hayes will forever be linked with the Disputed Election of 1876, an unfortunate legacy since he should be counted among the most honest presidents. Proclaiming himself to be a conservative Republican, he emerged as a social liberal and made meaningful contributions in the areas of government reform and minority affairs.
---- Selected Quotes ----
Quotes by Rutherford B. Hayes.
Regarding Separation of Church and State
We all agree that neither the Government nor political parties ought to interfere with religious sects. It is equally true that religious sects ought not to interfere with the Government or with political parties. We believe that the cause of good government and the cause of religion both suffer by all such interference.
Speech, Marion OH, 1875
Regarding Alexander Graham Bell
That's an amazing invention, but who would ever want to use one of them?
Discussing the telephone with its inventor
Regarding Brevity
I have a talent for silence and brevity. I can keep silent when it seems best to do so, and when I speak I can, and do usually, quit when I am done.
Diary, 1871
Regarding Public Education
As knowledge spreads, wealth spreads. To diffuse knowledge is to diffuse wealth. To give all an equal chance to acquire knowledge is the best and surest way to give all an equal chance to acquire property.
Diary, 1878
Regarding James A. Garfield
One of its [James A. GarfieldÂ's assassination] lessons, perhaps its most important lesson, is the folly, the wickedness, and the danger of the extreme and bitter partisanship which so largely prevails in our country.
Letter to Emile Kahn, October 1, 1881
Regarding Prohibition
Personally I do not resort to force — not even the force of law — to advance moral reforms. I prefer education, argument, persuasion, and above all the influence of example — of fashion. Until these resources are exhausted I would not think of force.
Regarding a suggested Prohibition amendment, in his diary, 1883

Quotes regarding Rutherford B. Hayes.
By Benjamin Harrison
His public service extended over many years and over a wide range of official duty. He was a patriotic citizen, a lover of the flag and of our free institutions, an industrious and conscientious civil officer, a soldier of dauntless courage, a loyal comrade and friend, a sympathetic and helpful neighbor, and the honored head of a happy Christian home. He has steadily grown in the public esteem, and the impartial historian will not fail to recognize the conscientiousness, the manliness, and the courage that so strongly characterized his whole public career.
Executive Order, January 18, 1893